Eight Tips For Running A More Efficient Landscaping Business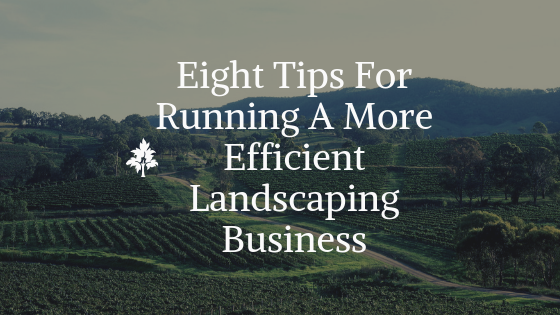 Running a successful landscaping business not only takes hard work but the right tools and knowledge.  There are so many factors to manage from your employees to equipment maintenance. For this reason, knowing the right tips can help set your business on a path of growth and profitability.
1. Customer feedback is key
Listening to what your customers needs and wants are is essential to doing the job right the first time around. If you don't, you can wind up having to redo the work. This not only costs you time and money but maybe even your client.
One of the best things you can do when meeting with a client is to jot down all the requests they have. Draft up a document with all the details and have them sign it. This will not only help ensure the job gets done right the first time around but you will have a satisfied customer in the end. P.S. Social proof is key these days so don't forget to ask your customers to write a testimonial for you.
2. Properly maintain your equipment
[ Photo by Skitterphoto from Pexels]
Maintaining your lawn care equipment is key to running an efficient business. Always follow the recommended maintenance schedule that is specific to each piece of equipment. If you have any repairs or work done, you should keep a log of that for future reference.  When the equipment is not in use, follow the proper storing procedures.
3. Restrict personal cell phone usage
In any business, cell phone usage will drastically reduce productivity levels. For this reason, cell phones should only be used when employees are on their break. This should be a company wide rule that applies to management as well. Remember, when your employees see you do better, they do better. You should also consider designating an area for cell phones to be stored until their break or their shift ends.
4. Increase productivity with incentive programs
In business, including your staff in business discussions can be helpful. Consider holding monthly meetings to discuss current procedures. Putting together an incentive program that rewards employees for their feedback would be a great idea. You never know what ideas may be shared that would be beneficial to your business and even save you money.
If you find an idea that makes sense, you can offer a bonus to that employee. However you decide to implement your program is up to you. Either way, what is key is that getting all the minds thinking about how you can better your business is beneficial.
5. Keep abreast of industry trends
[Photo by Kaboompics .com from Pexels]
Staying on top of industry trends is key to remaining competitive and successful.  Make sure you are signed up to receive the latest industry news and that you attend any industry related conferences or events. This will help keep your business ahead of the competition and ensure that your are providing the best service to your customers.
6. Network with industry professionals
Connecting with other landscaping business professionals provides insight into different business challenges as well as wins that they may be experiencing. You may learn an idea or two from them and vice versa.  Check online to see if there are any relevant groups in your community that you can join. You can also search Facebook for relevant groups as well.
7. Be proactive
Whether it is an issue that comes across your desk or an email that requires your attention, don't sit on it. If there is a problem, do everything in your power to address it immediately. Small problems can become big ones if you wait too long.
This goes for emails or any other business matters as well. If something needs to get done, don't leave it for later. This could lead to problems as well as a drain on efficiency.  This is something that should be implemented from the top down.
8. Outsource your marketing
[Photo by rawpixel.com from Pexels]
Marketing done right is a full-time job in and of itself. It can be tempting to think you can handle the marketing and advertising yourself, but it is a smart move to outsource this to a marketing firm if your budget allows.
Conclusion
Running a successful landscaping business rests a lot on efficiency. The above tips will help your business run more smoothly leading to better profits and an overall more productive environment.  Remember that working smarter and not only harder is what counts.